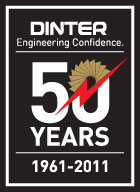 Dinter Engineering. 50 Years of Engineering Confidence,1961-2011
In 2011, Dinter Engineering celebrated a milestone for any small firm: 50 years in business. We are both proud and humbled by this achievement, which started in 1961 with the vision of our founder, Hubert Dinter, and which continues today through the leadership of our Executive Team and our talented and hard-working staff of engineers and support personnel in Reno, Nevada and Coeur d'Alene, Idaho.
Over the last five decades, Dinter Engineering has had the pleasure to work with literally hundreds of teams and individuals on a number of amazing projects, and we are grateful for every opportunity that hard
work, ingenuity, and a little bit of old-fashioned luck has brought our way. As we look to the future, we remain optimistic that, by leveraging great technology and the brightest minds in the business, we and all of our colleagues can tap the abundance of opportunity that living in this great country affords.
From each of us at Dinter Engineering, thank you for your friendship and support, and we look forward to serving you and your projects for many years to come.