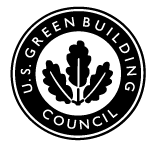 DINTER'S STANDARD LEED is quickly becoming the future of how structures are designed and built. Dinter recognizes the necessity to implement LEED principles and techniques to reduce the long-term impact on the environment, so we are committed to providing sustainable engineering designs aimed at creating healthier structures with improved efficiency. Our goal is not only to meet the current sustainability requirements of our clients and the building's occupants, but also to anticipate and prepare for future needs and developments. We achieve this goal with an experienced professional staff and our collaborative approach to engineering, combined with a devoted responsibility to the environment.
LEED-ACCREDITED STAFF We encourage members of our staff to complete a Leadership in Energy and Environmental Design (LEED) certification course. Twenty-five percent of our design staff are LEED Accredited Professionals. Our LEED AP engineers utilize proven, sustainable strategies to design environmentally-friendly "green" buildings by incorporating energy efficiency, waste reduction, water efficiency, and indoor environmental quality into one holistic approach.
DINTER'S "LEEDERSHIP" Our mechanical and electrical engineering divisions have been recognized for their energy-efficient designs on several projects around the country. Our LEED efforts and key leadership recently contributed to the pursuit of certifications, energy efficiency, and sustainability for the U.S. Forest Service Administration Site, Truckee, California; Phoenix Sky Train project, Phoenix, Arizona; Cimarron Solar Park 1 in Springer, New Mexico; and for airfield lighting design for the Los Angeles International Airport Midfield Satellite Concourse in Los Angeles, California.
RENEWABLE ENERGY Dinter is dedicated to the rapid growth of energy efficiency and renewable energy technologies. We work closely with our nation's departments in achieving their goals in building a clean-energy economy that will better the lives of people. We meet this goal through the use of solar power and wind power strategies which we implement into our designs. The result of Dinter's participation in renewables is a two-pronged strategy to help our clients and country attain a renewed prosperity while protecting and preserving our environment. Dinter will continue to place alternative energy solutions in the forefront of our thinking and engineering design.