Hubert Dinter Story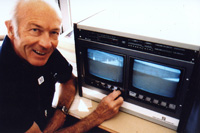 Hubertus Dinter was born on December 7, 1925, in Ziegenhals, Germany, which is now known as Glucholazy Poland.He was the middle of 3 children along with Bernhardt and Rosemarie.As a young teen, he was very interested in science and mechanics, and one of his hobbies included experimenting with chemicals such as hydrogen sulfide and gun powder to explode small pipe bombs. This was considered a foolish and dangerous activity in those politically charged wartimes, and his family was grateful it went undetected. Hurbert was also fascinated with the new invention, the "radio", and built his first one at the age of 12, testing it out on his hapless sister, who received many electrical shocks as a result.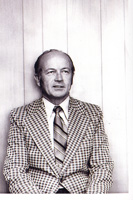 He was drafted out of high school by the Luftwaffe (German Air Force) and trained as a pilot to fly a Messerschmitt Fighter plane. During World War II Hubert's plane was shot down, and he landed in the Ukraine surrounded by Russian and American armies.The Russians held Hubert captive for 3 years before he attempted his escape. Spotting a glimpse of an American ship passing near the camp, he swam out to it hoping to be rescued, only to be captured again and sent to Siberia to endure hard labor.The POW officials wanted only the strong and healthy to fulfill the duties in the camp.When Hubert became very sick and nearly starved to death, this became his ticket back to Germany.
As a young lad Hubert had been inspired by his Uncle Perschal (his mother's brother), who was an engineer, and after returning to Germany he decided to pursue an engineering career at Darmstadt University of Technology in Darmstadt,Germany. After obtaining his degree in Electrical Engineering he moved to Canada to live with his parents in Calgary.This is where he met his wife, Eva,with whom he adopted three children-Steven, Michael and Tanya.
Eager to begin his engineering career Hubert pursued a job offer in San Francisco California. However, after visiting the seemingly large office separated into small cubicles, he quickly decided that type of corporate atmosphere was not for him and returned to Canada. During this return journey, he passed through Reno, Nevada and found it more his style. The beautiful sky, mountains and spacious land formed a paradise suited to an outdoorsman such as Hubert, and the Sierra Nevada Mountain area would soon become his family's new homeland.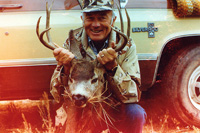 Hubert's new career began as an Estimator for Landa Electric in Reno, but after about a year and a half, he decided to start his own company and founded an electrical consulting engineering firm, H.C Dinter & Associates in Reno, Nevada, in 1961, In 1965 Mr. Dinter and Mr. William Bulkeley formed a partnership which added mechanical engineering to the firms's services. Later on he expanded his staff to seven employees, along with opening a branch in Las Vegas. Early projects included a Nevada State Museum, Nevada State Mental Hospital, fire stations, post offices, apartment buildings, schools, airports, warehouses, offices, and a new minimum security prison.
Hubert is described by family and friends as outgoing, a leader, determined, patient, kind, generous, likeable, and a rebel of sorts. He was an avid sportsman who enjoyed hunting, fishing, downhill and cross country skiing, and sailing, while also being a jogger and tennis player.It is said that he was a sports extremist because he played hard, fast and relentless, living life to the fullest, always making use of every minute. His motto for life was "Work to live, don't live to work", which hung on a plaque in his home, and this motto still lives in the hearts of Dinter Engineering's current employees.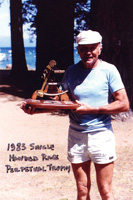 As a member of the Tahoe Yacht Club he received several sailing awards, one in particular for a "Single-Handed Race" meaning a crew of one. He built a family cabin in 1979 in the Tahoe Mountains and named it "Schloss Hubertus" (Hubert's Castle). He supported the Reno community by filling the role of Chairman to the Steuben Society, an organization of American citizens of German descent which encourages them to participate in civil affairs and understands the contributions of such citizens to the development of the United States of America. This Society was named after Friedrich Wilhelm von Steuben, who was a hero of the Revolutionary War and George Washington's Adjutant General.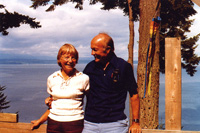 In 1980 Hubert was re-married to his long time friend Brigitte Muffy. They shared many common interests and considered one another soul mates. Traveling with family and friends to many European Countries became a regular part of their lives. Over the years Muffy collected numerous photographs of the beautiful sites they traveled while hiking and backpacking.
Very sadly this saga ended too soon when, on August 23, 1984 near Alturas, California Hubert Dinter suffered a fatal heart attack at the young age of 58 while antelope hunting, one of his favorite pastimes. His family believes that the inhuman conditions he endured in the POW camp may have contributed to his untimely death.
Although Hubert Dinter is no longer with us, the legacy he began continues going strong today with the company he created and the family members who carry on his name.