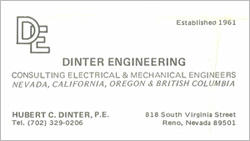 The Hubert Era 1961-1984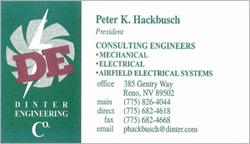 The Big 5 Era 1984-2005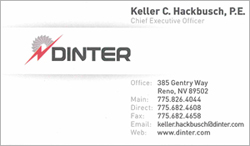 The Executive Team Era 2008-Present
The History of Dinter Engineering, Co.
The Hubert Era 1961-1984
'Colorful' comes to mind when describing the origin of Dinter Engineering Company. The firm's founder, Mr. Hubert Dinter, began the electrical consulting engineering firm of H. C. Dinter & Associates in Reno, Nevada, in 1961. Just four years later Mr. Dinter and Mr. William Bulkeley formed a partnership which added mechanical engineering to the firm's services. Their early projects were a diverse mixture that included the Nevada State Museum, an addition to the Nevada State Mental Hospital, a new minimum security prison, fire stations, post offices, apartment buildings, offices, warehouses, schools, and airports.
Dinter Engineering Company has written a tribute to Hubert Dinter to honor him and to share with our clients our founder's intriguing life. Please take time to read his story: Tribute to Hubert Dinter.
An interesting piece of irony to this story is that Mr. Dinter was born on December 7, which later became Pearl Harbor Day, and is now also considered Founder's Day at Dinter Engineering. This is ironic because Hubert served as a German Messerschmitt pilot in World War II. In his personal life he was an avid outdoorsman who enjoyed sailing, bird and deer hunting, tennis, and jogging. It was while on a hunting trip in 1984 that he suffered a sudden fatal heart attack. After his passing, five of Hubert's key long-time employees joined together and purchased the company from his widow, Brigitte 'Muffy' Dinter. The new owners were:
Peter Hackbusch - Electrical Designer
Bill Vandenberg - Electrical Designer
Eric Lovejoy, PE - Mechanical Engineer
Ritch Golden, PE - Mechanical Engineer
Suzie Myres - Accounting/Business Management

These employees founded the current corporation of Dinter Engineering Company in 1985 and became known within the company as 'The Big 5'.
The Big 5 Era 1984-2005
One of the first changes the Big 5 initiated was a whole new look with an updated logo and colors. Shortly after forming Dinter Engineering Company, the Big 5 added a new specialty of airfield lighting and electrical engineering in 1988 partly due to Eric Lovejoy's interest in flying as a private pilot and familiarity with airports. This expanded the firm's existing expertise in designing municipal, military, federal, hospital, and educational facilities to include airports. Dinter's dedicated Airfield Electrical Department now provides design services across the country.
The company further evolved as the Big 5 opened the ownership to employee purchase options, formed a Board of Directors, and divided their management efforts into five unique areas- with Pete running the Electrical Department, Eric the Airfield, Ritch the Mechanical, Bill the Marketing, and Suzie the Accounting. Eric Lovejoy was selected to be President. The company's physical address moved a few times with a long stint at 333 West Moana Lane before settling into its current location at 385 Gentry Way, Reno, Nevada in 1997. The Big 5 were an unbreakable unit until 1999 when Ritch Golden retired to travel Australia. Ritch currently supports Dinter as a sub-consultant providing LEED and QA/QC support. Shortly after Ritch's retirement, a current employee, Mr. Thomas Federici, P.E., was elected to the Board of Directors and promoted to Mechanical Department Manager.
Dinter Engineering Company had enjoyed 20 years of success and weathered major changes in its management and ownership structure when, the company began to take on another new form. In 2004, Eric Lovejoy left the firm to pursue other opportunities, followed a year later by Bill Vandenberg, who retired to enjoy fishing and bike riding with his family. Peter Hackbusch was elected the new President of Dinter, a position he still holds today. Tim Prockish, P.E. was already managing the Electrical Department, Tom Federici, P.E., the Mechanical, and Keller Hackbusch, PE (Peter's son) began managing the Airfield Department and Marketing. Suzie Myres continued managing Accounting.
In June of 2006, Dinter opened a branch office in Phoenix, Arizona.
The Executive Team Era 2008-Present
With the growth of Dinter, came more changes. The company doubled in size by 2008 and Keller Hackbusch, P.E. and Tim Prockish, P.E. were elected by the Board of Directors on March 7, 2008 to lead Dinter Engineering into the future with new energy and fresh ideas for growth and expansion. A new management team was formed, dubbed 'The Executive Team', with Keller Hackbusch the new Chief Executive and Tim Prockish the new Executive Vice President. This Executive Team provides a continuity of service and enhanced leadership while the Board of Directors mentors and oversees the Executive Team operations.
The purpose of the Executive Team is simple: to increase PROFITABILITY; provide LONGEVITY; develop SUBSTANTIAL, CONTROLLED GROWTH; and serve as CORPORATE LEADERSHIP. With the advice and business acumen of the Board of Directors behind the new energy and leadership of the Executive Team, Dinter Engineering Company has high expectations for the years to come.
August of 2009 became one of the most progressive months in Dinter history with three major events occurring. First, Suzie Myres retired from nearly 30 years at Dinter to spend her time enjoying summers in Reno and winters in Phoenix, leaving only Peter Hackbusch as the last of the Big 5 remaining. Second, Dinter opened yet another branch office, this time in Coeur D'Alene, Idaho, planned and developed by Executive VP, Tim Prockish, P.E. Finally, Dinter has implemented a fresh brand, logo, and colors to represent Dinter's commitment to Engineering Confidence through quality work.
As of September 2009, Dinter Engineering Company's ownership consists of five men- Peter Hackbusch, Tom Federici, Tim Prockish, Ed Gansberg, and Keller Hackbusch.
We're celebrating the Company's 50th anniversary this year and looking ahead to where the future leads.
Dinter Engineering employs 30 people between three offices and has completed over 4200 projects covering a wide range of airport, commercial, industrial, institutional, educational, municipal, health care, water/wastewater, federal, and military facilities of all sizes and complexities, from small rehabilitation projects to major new construction jobs across the country.