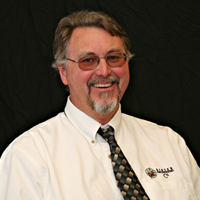 Peter K. Hackbusch
President / Principal-in-Charge
Experience:
Mr. Hackbusch has amassed a tremendous amount of electrical design and project management experience from work on a large variety of projects since 1967. In 1977 he joined Dinter Engineering Company as project manager, cost estimator and specification writer in the Electrical Department and became a principal in the firm in 1985. Presently Mr. Hackbusch is president of the company and the principal in charge of electrical production.
Pete has been involved with many institutional, medical, military, industrial and commercial projects, including some with total construction costs over $800 million, and is experienced in all types of electrical systems including lighting, power, telephone/data communications, signal, and security electronics. To date he has been involved with airfield electrical projects in Arizona, California, Nevada, North Dakota, Oregon, Texas, and Utah for nine international air carrier airports, nineteen general aviation or regional airports, and ten military air bases. Mr. Hackbusch is currently electrical project manager for a phased new passenger train system for Phoenix Sky Harbor International Airport.
Years of Experience:
Dinter Engineering: Since 1977
Other firms: Since 1967
Education:
Academy of Art, San Francisco, California - Graphic Arts - 1967-68
San Diego City College, California - Electrical Engineering - 1968-69
Mesa College, California - Electrical Engineering - 1971-73
Professional Activities
Honors/Awards: Mr. Hackbusch has been associated with many projects which have received honors/awards including:
The Bruce R. Thompson U.S. Courthouse and Federal Building, Reno, Nevada -- counted by the Washington D.C.-based American Institute of Architects as one of the Top 10 designed courthouses in the nation--recognized for aesthetic and security reasons--and earned Nevada AIA "Excellence in Design" Awards for 1997, 1998 and 2000.

Tahoe Regional Planning Agency's "2003 Best in the Basin" Awards Program Certificate of Appreciation for rehabilitation of the U.S. Forest Service's Zephyr Cove Resort Campground and RV Park at Lake Tahoe, Nevada--special award for excellence received in conjunction with JWA Consulting Engineers, Inc. for design effectiveness, ease of maintenance, types of materials used and overall visual quality.

Nevada AIA "Excellence in Design" Award for 2001 for new Aerial Port Facility for the Nevada Air National Guard, Reno/Tahoe International Airport, Reno, Nevada.

Nevada AIA "Excellence in Design" Award for 2000 for new McQueen Fire Station No. 11, Reno, Nevada.

Nevada AIA "Excellence in Design" Awards for 1997 and 1998 for the remodel of the University of Nevada, Reno's Mackay School of Mines Building for the DeLaMare Library.

"Certificate of Appreciation" from the Associated Students of the University of Nevada and the Staff of the Jot Travis Student Union for contributing to the successful renovation of the Jot Travis Student Union building.

Nevada AIA "Excellence in Design" Awards for 1997 through 2000 for the new Northern Nevada Science Center at the Desert Research Institute, Reno, Nevada.
Project Experience:
Airports: El Paso Intl., TX (2); Los Angeles Intl., CA (2); McCarran Intl., NV (3); Oakland Intl., CA (2); Phoenix Sky Harbor Intl., AZ (4); Reno-Tahoe Intl., NV (43); Sacramento Intl., CA; Salt Lake City Intl., UT; San Diego Intl., CA (2); Norman Y. Mineta San José Intl., CA (4); Battle Mountain, NV; Beatty, NV; Chandler, AZ; Chino, CA; Elko Regional, NV (2); Flying Eagle Air Park Ranches, NV (2); Henderson Executive, NV (2); Medford-Jackson County, OR; Minden-Tahoe, Minden, NV; Needles, CA; Phoenix-Mesa Gateway, AZ (3); Prescott, AZ; Ramona, CA; Reno-Stead, Reno, NV (10); Riverside, CA (3); Sedona, AZ; Southern California Logistics, CA.

Commercial (banks, shopping centers, retail stores, offices, restaurants, kitchens, bars, etc.): 65 projects.

Correctional (jails; minimum, medium and maximum security prisons; public safety facilities; and youth facilities): +70 projects.

Municipal and Other Government (courthouses/city halls; fire stations; city, county and state government administrative and dispatch facilities (DMV, DOT, Legislature, etc.); post offices): +110 projects.

Educational (kindergarten through 12th grade, post-secondary institutions, training facilities): +205 projects.

Historic Preservation/Renovation: 20 projects.

Hotels, Casinos, Motels: 20 projects.

Industrial, Mining and Warehousing: +60 projects.

Medical (hospitals, mental health facilities, convalescent homes, health clinics, medical/dental office buildings, medical laboratories, veterinary facilities, etc.): +65 projects.

Military (Air Force, Army Corps of Engineers, Marine Corps, National Guard, Navy): +110 projects.

People Movers/Rail Facilities: 8 projects.

Recreational Facilities (parks, ballfields, trails/pathways, fairgrounds, golf courses, ski resorts, recreation areas, campgrounds/RV parks, U.S. Forest Service facilities, visitor centers, gyms/physical fitness facilities, community centers/clubhouses, senior centers, swimming pools, tennis courts, museums, galleries, theaters): 70 projects.

Religious (churches, chapels, wedding chapels, cemeteries): +30 projects.

Residential (barracks, dorms, condos, apartments, housing developments, single-family homes): 45 projects.

Non-airport Vehicular (vehicle maintenance shops, DOT equipment buildings, bus system facilities, vocational/auto repair shops, garages, parking garages/structures, gas/service stations, car/truck wash facilities, paint booths, auto sales): +70 projects.