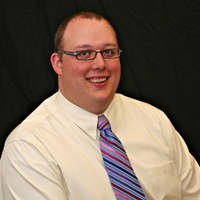 Keller C. Hackbusch, P.E.
Chief Executive / Manager of Airfield Electrical Department /
Business Development
Experience:
Mr. Hackbusch began his employment at Dinter Engineering in 1995, while attending the University of Nevada, Reno. Keller literally grew up in the electrical engineering industry, following his father out to various job sites. His duties have included project management, design and construction management for airfield electrical projects at various airports nation-wide. In 2004 Mr. Hackbusch became manager of Dinter's Airfield Electrical Department, and in 2008 his duties expanded to include being Chief Executive for the firm.
Mr. Hackbusch's considerable airfield project experience includes work for nine international air carrier airports, 35 general aviation or regional/municipal airport facilities, and 6 military air bases located in Arizona, California, Colorado, Florida, Idaho, Nevada, North Dakota, Oregon, Texas, Utah and Washington.
Professional License:
Mr. Hackbusch has professional registration as an electrical engineer in multiple states including:
California P.E. No. E19598
Massachusetts: P.E. No. 48919
Nevada P.E. No. 018326
New Mexico P.E. No. 20206
Years of Experience:
Dinter Engineering: Since 1995
(Part time while attending college)
Education:
University of Nevada, Reno - Bachelor of Science in Electrical Engineering - Fall 2001
Professional Activities

Two 1½-hour educational presentations (including preparation) on electrical engineering for airports for the 2005 and 2006 ACC/AAAE Airport Planning, Design and Construction Symposiums in Reno, Nevada.

½-hour presentation on August 4, 2009 on LED lighting case studies at the AAAE Airport Facilities and Management Conference.
Project Experience:
Mr. Hackbusch has experience in all of the following categories:
Airports: (1) Barstow-Daggett, CA; Beatty, NV; Bryant Field, CA; Casa Grande Muni., AZ; Chino, CA (2); Colorado Springs, CO (4); Falcon Field, AZ; Fallon Muni., NV; Flagstaff Pulliam, AZ; Gabbs, NV; Garfield County Regional, CO; Henderson Exec., NV (2); Idaho Falls Regional, ID; Klamath Falls, OR; Lee Vining, CA; Long Beach, CA (4); Needles, CA (2); North Las Vegas, NV (2); Okanogan Legion, WA; Phoenix-Mesa Gateway, AZ (3); Pocatello, ID; Prescott Muni., AZ; Redlands Muni., CA; Reno-Stead, NV (7); Riverside, CA (3); Sacramento Exec., CA; San Luis Obispo County, CA; Scottsdale, AZ (2); Silver Springs, NV; Southern California Logistics, CA (3); Tallahassee Regional, FL; Tercio Ranch, CO; Tonopah, NV; Tooele Valley, UT; Truckee Tahoe, CA

13 projects for Los Angeles International Airport, Los Angeles, California, including:
Midfield Satellite Concourse (MSC), Tom Bradley International Terminal (TBIT) Expansion – Task Order 1: Taxiway C-13, Taxiway D Extension & RON Apron Automated Surface Observation System (ASOS) Relocation. Computer Airfield Lighting Control and Monitoring System Upgrade

12 projects for McCarran International Airport, Las Vegas, Nevada, including:
Cluster Building No. 2 Ramp Rehabilitation East Lot Aircraft Parking Apron Expansion Reconstruction of Runway 1R-19L and Associated Taxiways

Projects for Naval Air Station, Fallon, Nevada: Design/Build Taxiway E, CALA Ramp, and Aprons for Hangars 3, 4 and 7 Airfield Electrical Systems' Condition Assessment

3 projects for Phoenix-Mesa Gateway, Mesa, Arizona:Beacon Relocation/Replacement Airfield Electrical and Communications Systems Outside Runway Modifications

3 projects for Phoenix Sky Harbor International Airport, Phoenix, Arizona: Additional Taxiways for Runway 7-25 Runway 7-25 and Taxiway G Extension Parking Lot Lighting and Runway 8L Extension.

13 projects for Reno-Tahoe International Airport, Reno, Nevada, including: Reconstruct Runway 7-25 at Taxiways A and B Airfield Signage Improvements - Phases I and II Taxiway L Restoration Runway Safety Area Improvements

Sacramento International Airport, Sacramento, California: Task 7E Crossfield Taxiway 'W' Tasks 7B and 7C - Improvements to IIAB and RON Aprons and Taxilanes

San Diego International Airport, Lindbergh Field, San Diego, California: Electrical Survey of Airfield Lighting System

Tallahassee Regional Airport, Tallahassee, Florida: Runway 9/27 Reconstruction and Correction of Line of Sight

3 projects for Riverside Airport, Riverside, California, including: Relocation of Existing ASOS Electrical System Survey and Master Plan Reconstruction of Runway 9-27, Parallel Taxiway 'Alpha', and Connecting Taxiways

Military Air Bases: NAWS China Lake, CA; El Centro NAF, CA; Fallon NAS, NV (3); Grand Forks AFB, ND; and MCAS Camp Pendleton, CA; Wright-Patterson Air Force Base, Ohio.

Residential: including Empire Farms in Empire, Nevada: 3-car Garage and 2-car Garage.

Computer Facilities: Including U. S. Postal Service in Reno, Nevada: New Cargo Facility at Reno-Tahoe International Airport.