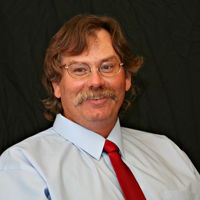 Tim A. Prockish, P.E.
Executive Vice President / Electrical Department Manager /
Chief Electrical Engineer/Business Development
Experience:
Mr. Prockish has many years of engineering experience (see below) from various local electrical engineering and contracting firms. He has performed all phases of electrical engineering including design, project scheduling, estimating, submittal review, field inspections, overseeing staff and drafters, and system installation. Mr. Prockish is executive vice president and manager of the Electrical Department for Dinter Engineering Company.
Tim has designed all types of electrical systems including communications infrastructure items such as security, telephone, local area network (LAN), fiber optics, information display, and fire alarm systems, power distribution, building electrical systems, and roadway and interior lighting. His projects have included educational, institutional, commercial, business park, industrial, warehouse, office, residential, recreational, courthouse, health care, military, and airport facilities.
Professional License:
Mr. Prockish is professionally registered as an electrical engineer in Multiple states including Nevada P.E. No. 12931 and was previously registered to install Type F protective and signaling systems with the Nevada State Fire Marshal's Office.
Arizona P.E. No. 36131
California P.E. No. E15182
Colorado P.E. No. 40060
Idaho P.E. No. 12301
Montana P.E. No. 17482
Nevada P.E. No. 12931
New Mexico P.E. No. 17530
Oregon P.E. No. 78291PE
Utah P.E. No. 6067459-2202
Washington P.E. No. 42623
Wyoming P.E. No. 10789
Years of Experience:
Dinter Engineering: Since 2001
Other firms: Since 1988
Education:
University of Nevada, Reno - Bachelor of Science, Electrical Engineering - 1993.
Honors/Awards:
Mr. Prockish has been associated with the following award-winning projects:
New Immaculate Conception Church, Sparks, Nevada:
Southwest Contractor's "Best of Nevada 2005 Award" for Private Building Project over $5 million. Nevada Chapter of Associated General Contractors' "2005 PINNACLE Award" for Over $5 million category for sensitivity to environment/history/culture.

Rehabilitation of the U.S. Forest Service's Lake of the Sky Amphitheater at Taylor Creek Visitors Center, California - Tahoe Regional Planning Agency's "2003 Best in the Basin" Awards Program Certificate of Appreciation – evaluation criteria included design effectiveness, ease of maintenance, types of materials used and overall visual quality.
Project Experience:
Airports: George Bush Intl., TX; McCarran Intl., NV (8); Phoenix Sky Harbor Intl., AZ; Reno-Tahoe Intl., NV (29); Sacramento Intl, CA (3); Norman Y. Mineta San José Intl., CA (2); Barstow-Daggett, CA; Beatty, NV; Bryant Field, CA; Casa Grande Muni., AZ; Chino, CA; Falcon Field, AZ (2); Fallon Muni., NV; Flying Eagle Air Park, NV; Gabbs, NV; Garfield County Regional, CO; Henderson Exec., NV (2); Lee Vining, CA; Long Beach, CA (2); Needles, CA; Okanogan Legion, WA; Phoenix-Mesa Gateway, AZ; Prescott Muni., AZ (2); Redding Muni., CA; Redlands Muni., CA; Reno-Stead, NV (4); Riverside, CA (3); Sacramento Exec., CA; Silver Springs, NV (2); Southern California Logistics, CA (2); Tallahassee, FL; Tonopah, NV; Truckee Tahoe, CA (2); Tucson Ryan, AZ.

Bank of America, 50 W. Liberty, Reno, Nevada: Remodel Suite 880.

Shasta Head Start Facility, Anderson, California (new preschool building).

Desiderio Property, Sun Valley (Sparks), Nevada (new multi-tenant, three-building shopping center).

Riverside Art Gallery, Reno, Nevada: Remodel (of 5,000 sq. ft.)

Damonte Ranch High School, Reno, Nevada (new $35 million high school for 2,000 students).

City of Riverside, California, Mobile Radio System: Box Springs Project.

Washoe County District Attorney, Reno, Nevada: New Offices for Family Support Division.

Immaculate Conception Church, Sparks, Nevada (new 43,000 sq.ft. church facility).

Ely State Prison, Ely, Nevada: Fire Alarm Detection Replacement and Upgrade.

High Desert State Prison, Indian Springs, Nevada: Transient Voltage Surge Suppression - Phase I.

3 projects for Truckee Police Station, Truckee, California, including: Remodel (design/build)

Reno-Sparks Indian Colony, Sparks, Nevada: Improve Water System for Hungry Valley Pump Station.

City of Redding, California: Fire Station No. 8 (new 8,858 sq.ft. fire station).

Trout Creek Expansion, Truckee, California (10,000 sq.ft. addition to existing recreation center).

Atlas Contractors: New Batch Plant at Rocky Ridge, Sparks, Nevada.

Truckee Library, Truckee, California: Addition and Remodel.

Southern Nevada Adult Mental Health Services, Las Vegas: New Rawson-Neal Psychiatric Hospital.

17 projects for Naval Air Station, Fallon, Nevada.

Town of Mammoth Lakes: Mammoth Welcome Center and Visitors' Bureau Administrative Offices.

Truckee-Donner Recreation & Park District - Community Sports Park, Truckee, California: Phase 2 Buildings and Maintenance Building.

Patel Residence, (Lake Tahoe), Nevada (new $3 million, 9,000 sq.ft. residence).

Sizzler Restaurant, Sparks, Nevada: Remodel.

Reno Transportation Rail Access Corridor, Reno, Nevada: Phase I - Project Management.

Defense Depot San Joaquin, Tracy Site, CA: Renovate Building 286, Bays 4, 5 and 6 (Design/Build)