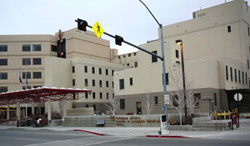 Phoenix Sky Harbor International Airport

Project Summary:
The VA building was originally built with a steam heating system and single paned windows in 1945. This type of heating system required a high level of maintenance from the hospital crew. The outdated inefficient ventilation system of the building caused a musty, unpleasant odor and air stagnation throughout the building. There was a limited source of outdated window air conditioner units to keep employees and patients cool in the hotter seasons. The system lacked functioning controls for hot or cold running water.
Project Location:
VA Sierra Nevada Health Care Hospital
1000 Locust Ave.
Reno, Nevada
Project Purpose:
To create a new modern HVAC system for administrative offices, dental services lab, clinical lab, hospital kitchen, Morgue, Pathology, Biohazard and Audiology Departments. The new system included a Direct Digital Control ( DDC) system.
Project Team:
Prime: Dinter Engineering Co.
Mechanical, Plumbing, Electrical
Architects: Sheehan-VanWoert-Bigoti Architects
Civil: Stantec Engineering
Structural: Hyytinen Engineering
Enviromental: Converse Consultants
Dinter's Contributions:
This project included removing all single paned windows and the air conditioning window units. Bringing the building up to code providing modern heating and cooling systems, eliminating asbestos, the new ventilation system greatly improved indoor air quality, reduced work for the maintenance. This renovation has provided a greatly improved HVAC controls system that will allow for the most efficient operation at all times of the year.
Prime A-E for design and construction observation services for a phased renovation project to replace the antiquated HVAC system in a 132,000 sq.ft., six-story, 68-year-old building. Our work included removing steam radiators with associated piping, all window air conditioners and existing packaged HVAC systems and replacing them with an efficient, and modern HVAC system. This work required relocating and/or replacing the fire alarm components, speakers, electrical conduit, computer cabling infrastructure, plumbing, etc., which interfered with the new HVAC system. This new mechanical system consisted of a new 450-ton, water-cooled centrifugal chiller system added to the existing central cooling plant with the associated pumping and piping extended to existing Building 1 for distribution to rooftop-mounted air handlers and to variable air volume (VAV) terminal units with reheat coils throughout the facility. The entire system is operated via a new Direct Digital Control (DDC) system. The existing steam system was reused by converting the steam via a new heat exchanger to make 180-degree hot water for distribution to the hot water heating coils throughout the facility.
Electrical work included an evaluation of the existing electrical distribution system and design of expansion to allow service to new HVAC equipment including a new 1000 kW generator. Additional electrical work consisted of removal of light fixtures in offices and corridors and replaced with new energy efficient lights; removal of ceiling mounted fire alarm devices and paging speakers and reinstall devices onto cable trays and wall devices and then provided new category 6 telephone data system throughout remodeled areas.
Additional structural, civil and architectural work involved all associated structural supports for equipment mounting, a complete roof replacement and a new underground tunnel design across Kirman Avenue to route chilled water piping from the new chiller in Building 8 to Building 1.